There are wide varieties of dishes, fiery spices, flavors and rich sauces that make an Indian food complete. Whether you whip up a curry yourself, head to your favorite Indian restaurant, or call us for a takeaway, Indian food is the best option for lunch to enjoy a complete meal at the comfort of your home. We have come up with some of the best Indian lunches you should try.
Lunch: Thu to Sat: 11AM to 3PM
Dinner:
Mon to Thu: 4:30PM to 9:30PM,
Fri & Sat: 4:30PM to 10PM,
Sun: 4:30PM to 9PM
It's Mirchi – Your One Stop Destination to Savor on the Authentic Taste of India
Mirchi is an Indian restaurant where you can taste the finest Indian dishes. We are a family owned business designed with elegance, passion and sheer vision for offering nothing but the best food in town. Our professional chefs prepare the authentic Indian dishes with passion. Our Indian lunches are tasty, varied and really healthy without gluten, sugar and dairy. There are hundreds of side dishes and curries available to meet varied dietary needs.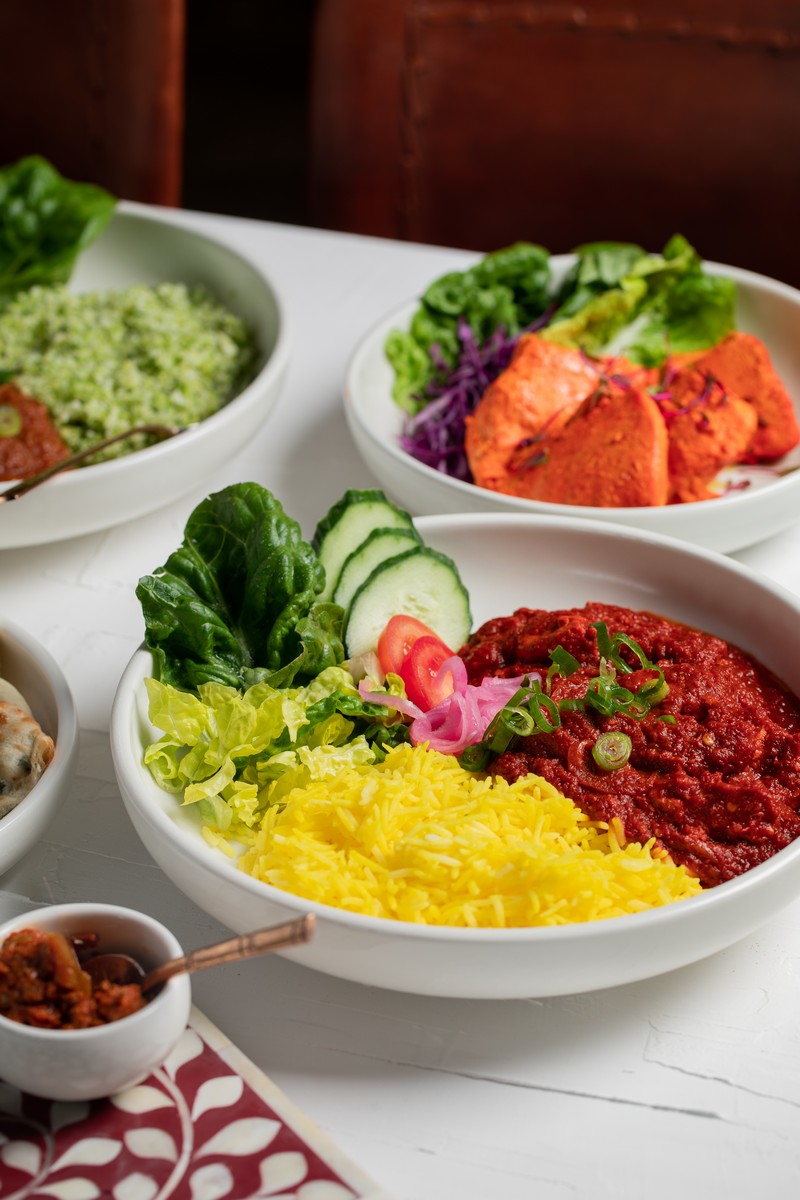 Indian Butter Chicken with Broccoli
The ever popular butter chicken simmered in rich tomato sauce and served with the goodness of broccoli. It is a flavorsome and deliciously rich dish which gives amazing and authentic taste. Whether you like mild, medium or hot, butter chicken can really adapt to your taste and come up with great flavor. You can choose what you like to have with it, i.e. some basmati rice or hot naan.
Green Veggie Curry
If you are looking for something green, there is nothing better than a classic spinach curry pan cooked with roasted spices and some hints of coconut cream.
Chicken Rogan Josh
Enjoy the smoky and wholesome taste of chicken breast marinated with fried onion in Kashmiri spices. Have your favorite pappadums and rice to scoop all it up with.
Sweet Potato Curry
Want something light this week? Give your taste buds something creamy in a mild sauce covering the spiced and light sweet potato.
Cauli Manchurian
This spicy Indian curry is fried with cauliflower florets covered in the batter of chickpeas. It is the pure adaptation of seasoning and cooking techniques from India and an absolute staple of Indian Chinese dishes.
Mixed Bean Masala
It is a complete blend of aromatic spices on plant-based curry. Legumes and beans are enriched with several healthy nutrients for your body. This Indian curry is rich in fiber, protein, vitamin and amino acids offering a lot of health benefits. It is very delicious also, as it is served with rice or naan.
Bottom Line
Indian food always stands top for having aromatic and delicious spices. The vivid variety of dishes that we offer provides a wholesome experience. Indian dishes are constantly gaining popularity across the world with several health benefits and authentic taste. Indian cuisine is blended with rich herbs, sauces and spices. It's Mirchi is your one stop destination as part of our multicultural heritage which is reflected in our culinary offerings.