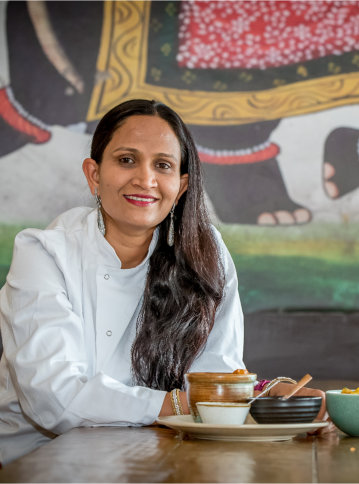 The saying goes that a woman's place is in the kitchen, then why are there so few female chefs? In India, wives are expected to cook at home, but only the men cook professionally. At It's Mirchi, we are so proud to have one of Australia's finest female Indian chefs, Urvashi.
Along with an attention to detail, she attributes her mastery of the cuisine to the authentic Indian recipes passed down to her by her mother. With a Urvashi's keen interest in healthy eating, it's no wonder It's Mirchi is so good for you and so tasty at the same time!

It's Mirchi was originally inspired by authentic Indian cuisine from an era where food held an important position among the royals of ruling kingdoms. It now blends rich history and modern dining for unique dining experience.
It's Mirchi is the only Healthy Indian™ restaurant is only restaurant of it's kind in Brisbane. Catering for a wide variety of dietary requirements including Vegan, Gluten Free, Dairy Free, and Nut Free options. Among their most popular choices are Certified Organic Chicken or Lamb curries and a Gluten Free naan bread unique to It's Mirchi. Named after the famed spice "Mirchi" (meaning Chilli), this specialty Indian restaurant aims to showcase ethnic Indian culinary delights at its finest. The restaurant has a warm dining experience specializing in slow cooked delicacies and innovative drinks that you will desire to come back for.
It's Mirchi Healthy Indian™offers impeccable service and surroundings with relaxed seating of a lounge for an authentic Indian dining experience for the more adventurous among us.'